Satori, the scent of Japan
Satori, Tokyo's temple of perfumes
When going somewhere, people tend to do interminable "must-see", "must-do", "must-eat" lists. But how about "must-smell"?...
For me, the Tokyo list was simple: I had only one thing that I really wanted to see and that was the Satori perfumery. The rest – Tokyo's newer or older neighborhoods, its temples, crosswalks and landmarks – would be nothing but a bonus.
So, first thing, my first morning in Tokyo, trying to take advantage of the cruelly early Japanese dawn and of the pesky jet lag that woke me up at 5 A.M., I head for Shinjuku, slowly crossing the Shibuya station, passing by Harajuku and taking my time at the Meiji Shrine. Despite all this, I was just out of luck that morning. I didn't have a map and Google Maps refused to charge, so I couldn't be sure of the precise location of the store. Anyway, what I found out later, is that it was too early. Satori perfumery opens at 11 A.M., while I was there long before 10.
A couple of days had to pass by until I gathered the courage to go again to Shinjuku (what a crazy place!). The second expedition was more than successful, to say the least. Arriving at the address pointed by Google, I find myself into a jeweler's workshop, where I ask for Satori perfumes. The jeweler kindly takes me to the block's entrance and gives me the "secret" code for Parfums Satori. Interphone. Ring, ring! Elevator. 11th floor. Here I was. Satori. At last!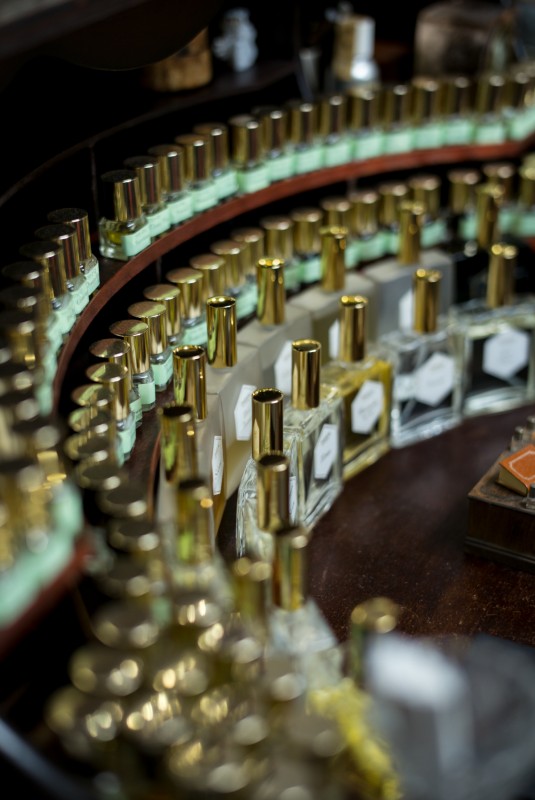 My private "degustation"
I was warmly welcomed by Ms. Tomoko Takeda and, to my huge, huuuuuuuuge surprise, Ms. Satori Osawa herself!
It's just amazing to see that there are places where the creator is still there, in flesh and blood, working, creating, talking, interacting with us. It's both extraordinary and reassuring. We had the time to talk a little before she went away for a business rendezvous.
Satori's shop is not a shop. It's her office, workshop and temple. Music and fragrances softly fill the air with a relaxing mood. All around the room, altars of fragrance raw materials tidily classified, collections of precious perfume bottles and miniatures, binders of recipes give you the feeling of being into a contemporary alchemist's workshop.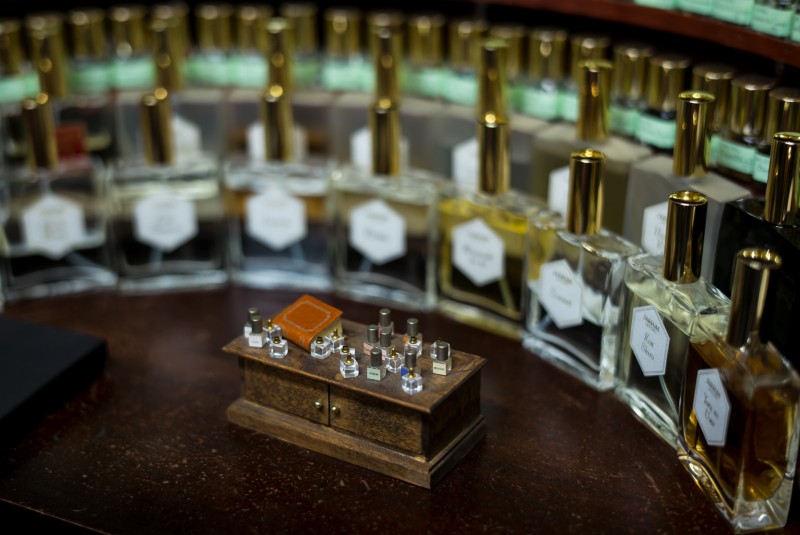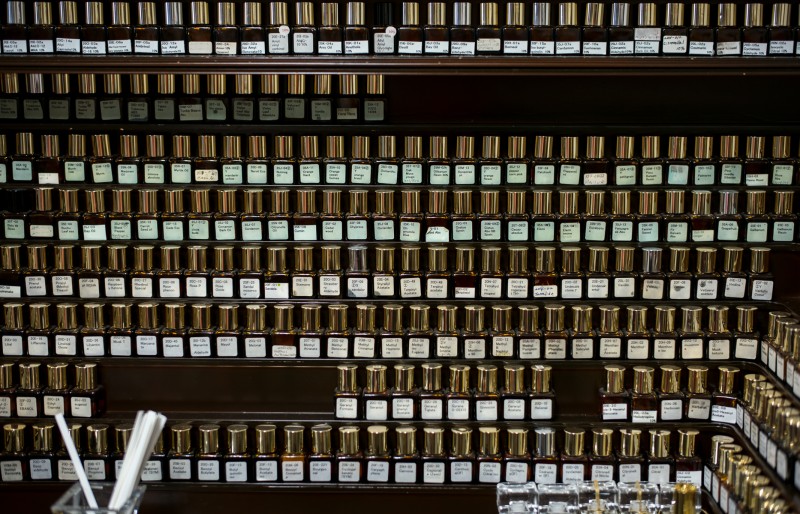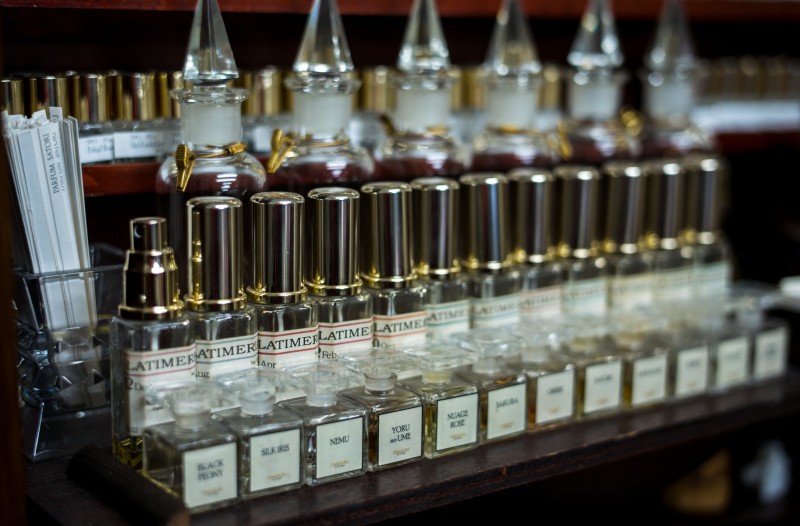 Someone kindly offers me a green tea. Tomoko-san invites me to take a seat ant then the show begins. She starts presenting each perfume, talking about Satori's philosophy, about her choice of ingredients and the story behind each perfume, explaining the Japanese cultural and climatic realities that have been forging in time a relation to perfumes different than the one we have in Europe.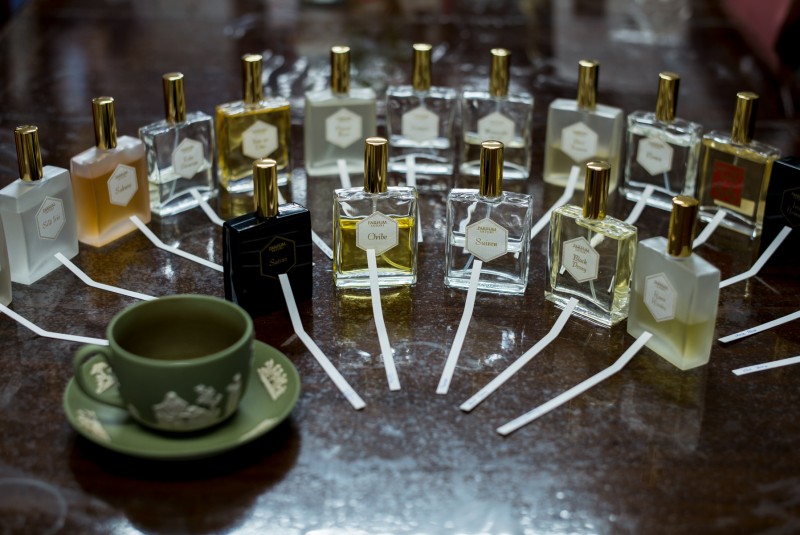 A new olfactory alphabet
I'm under the spell. The stories sound like an incantation, while I discover a new world of olfactory sensations. Just like the hiragana script, Satori's notes calligraphically draw a new and unexpected olfactory language, foreign to my European nose. Alas, I'm not a perfume expert, I'm just a keen amateur, so it's hard for me to describe in an accurate way how and what I felt. Moreover, my nose was partly blocked with Tokyo's pollen and dust... However, what I felt was a divine revelation of floral, green, airy or aquatic, uplifting fragrances.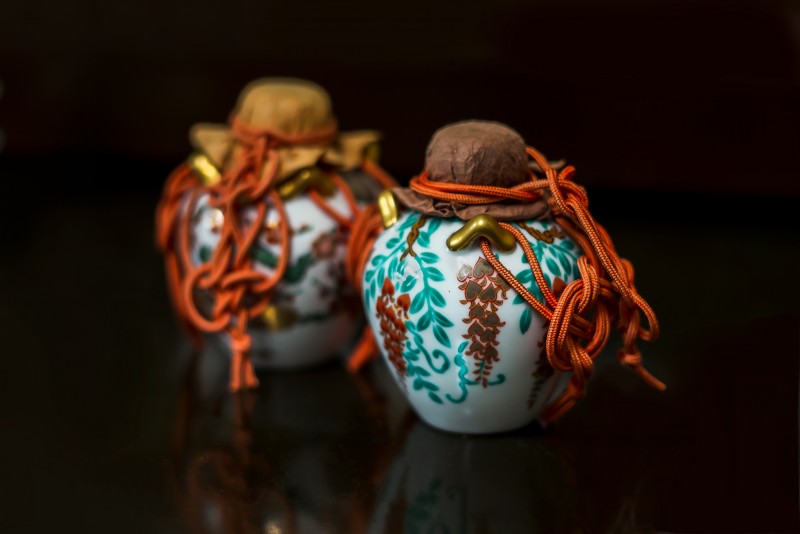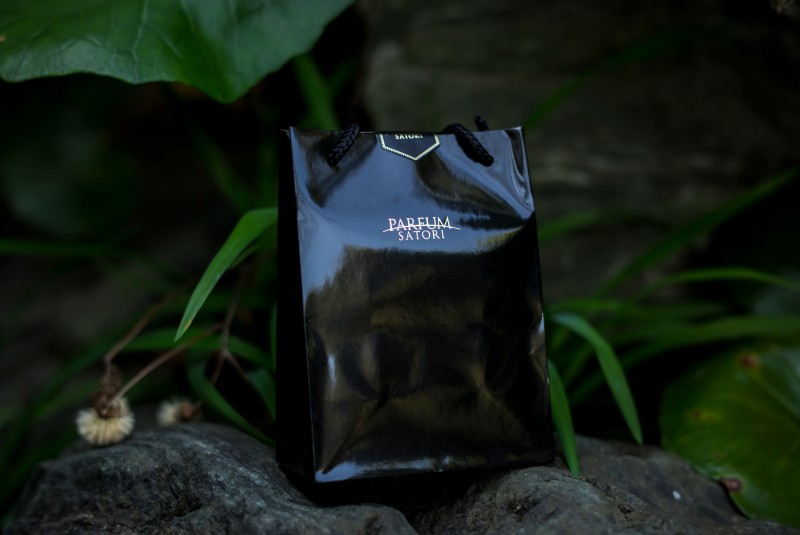 Olfactory travels through Japan
Inspired by Japanese experiences, rituals, myths or figures, her creations are odes to Japan' soul. Oribe is inspired by Oribe Furuta, famous master of the Japanese tea ceremony. Sakura is a wave of cherry blossom petals floating in the wind, an ode to the hanami tradition. Suiren is a Japanese garden under the warm light of dawn, where lotuses slowly swing on the water like porcelain cups, profoundly aquatic and pristine. Wasanbon is a "pêché mignon" drawing its name from the fine-grained Japanese sugar, a furtive delight, but without the "stickiness" that is generally associated to gourmand fragrances. The list goes on…
Overall, Satori perfumes are of a delicate femininity, ethereal and airy yet sumptuous, with strongly defined personalities. Imagine a small Japanese poetry book, carefully written on artisanal paper, with kanji and hiragana letters dancing on vertical columns. Although you can't read the words, you perceive the meaning beyond reason, with all your senses, through some sort of intuitive apprehension.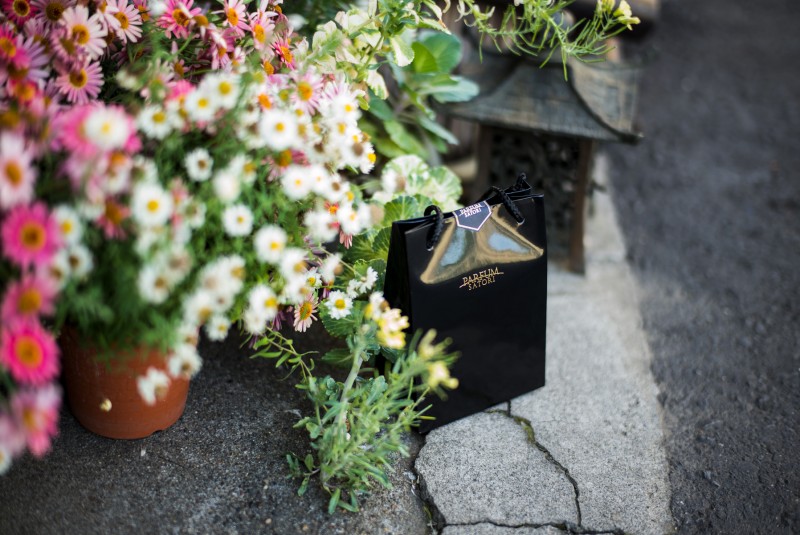 After tough deliberation, master Oribe wins
After one hour and a half of explorations, my shortlist was made of Satori and Oribe as "coups de cœur", Suiren and Black Peony at a second essay. It took thirty more minutes to declare Oribe as winner. A magic potion that instantly transported me in an open-air terrace shaded by green herbs, shrubs of jasmine and patchouli. I could feel the tatami under my bare feet and the caress of the warm rays of light playing between the leaves. Let the tea ritual begin...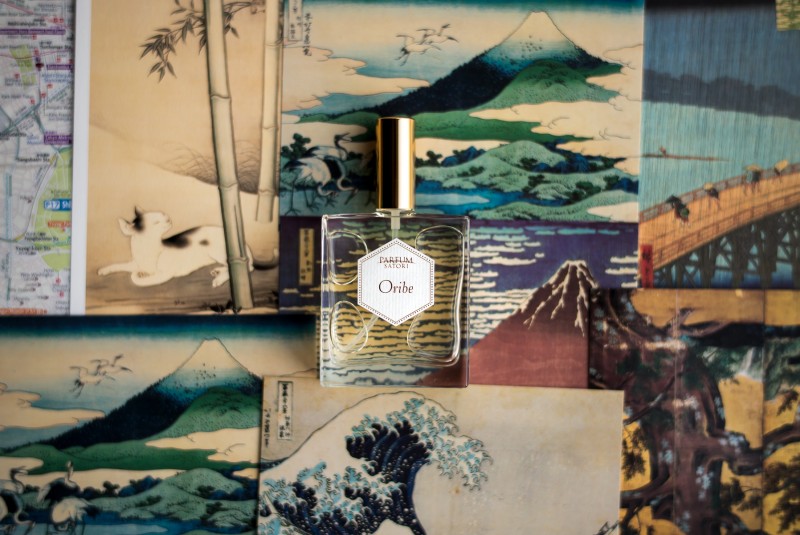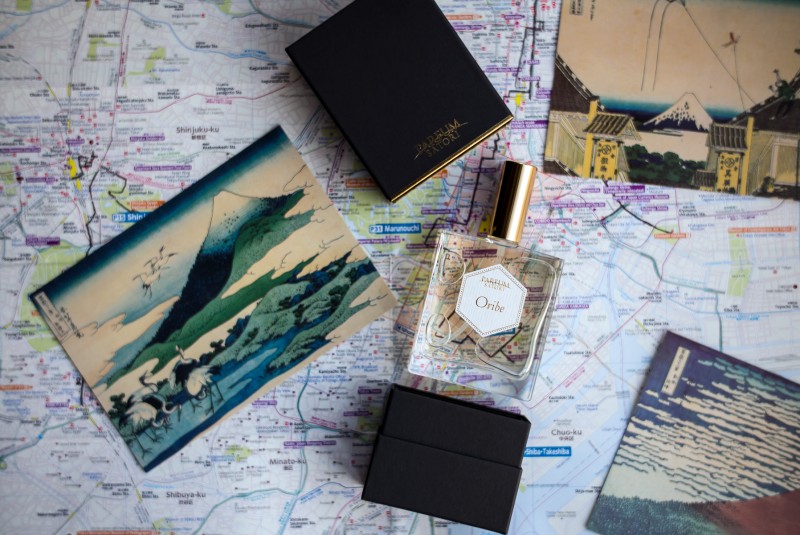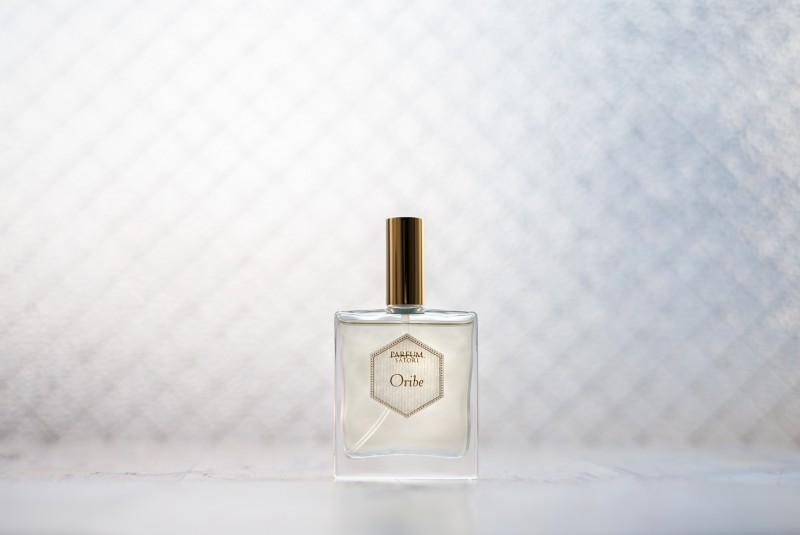 External link: Website Parfum Satori
#LeicaM #Summilux50mm #Summicron35mm #Satori #Perfume #Tokyo #Japan
©Madalina Diaconescu 2017